Nitrile Examination Gloves
Cat. III glove for examination purposes
Soft touch Nitril, with textured fingers for consistent grip
100% Latex Free, Powder Free & Odor Free
Compliant with EN 455, EN ISO 21420 & EN ISO 374
AQL <1,5
Optimised for healthcare, retail and food handling purposes
Medisp Nitrile examination gloves are a high quality examination glove with great performance for professional use.
The standard Medisp Nitrile Examination gloves are 240mm gloves, with 600% elasticity. The gloves are available in both blue and black, with the size range from XS – XL.
All Medisp Nitril gloves come in dispenser boxes per 100pcs, suitable for most standard glove dispensers. Each transport carton contains 10 inner boxes. Both inner boxes and transport cartons are optimised for Retail, Food- and Healthcare.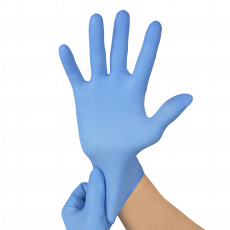 Medisp Nitrile Examination Gloves comply with the following standards:
EN 455
EN ISO 21420
EN ISO 374
Yes. Medisp Nitril Examination Gloves have been registered in both United Kingdom and Switzerland.
Both inner packaging and transport cartons contain the obligated UKCA mark, Swiss Representative and Swiss Importer.
The main language of Medisp Inner boxes, Transport cartons and support documents is always English.
The description and obligated general info is presented on the box in the following languages:
EN - English
DE - German
FR - French
DK - Danish
SE - Swedish
NO - Norwegian
FI - Finnish
ES - Spanish
PT - Portuguese
AR - Arabic
Get to know the
STI family.